1. Introduction to Quang Phu Cau Village
A tiny, traditional village called Quang Phu Cau is around 35 kilometers outside of Hanoi's city center. This location, in the commune of Quang Phu Cau in the Ung Hoa district, has a long heritage of producing traditional incense sticks. The community is renowned for its vibrant culture and welcoming locals. Quang Phu Cau incense village is a great choice for those looking for a genuine and distinctive experience. While having the promise to become a well-known tourist destination, it is still off the beaten road that not everyone knows when they come to Hanoi.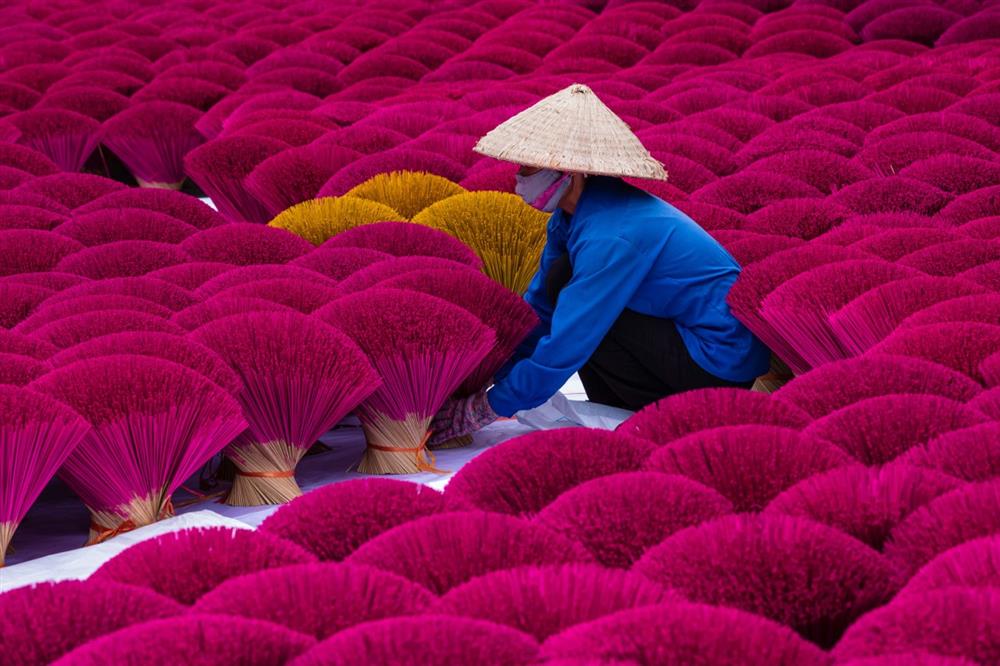 A farmer is making dry incense
This settlement of incense sticks was historically concentrated around Phu Luong Thuong village. Later, the incense-making industry extended to Dao Tu, Cau Bau,... transforming the sizable Quang Phu Cau commune into a sizable artisan community. This location combines various modern influences with the classic splendor of the Northern countryside.
 What's attractive about Quang Phu Cau Incense village?
Visitors to Quang Phu Cau incense village get the chance to learn about the technique of creating incense sticks traditionally and snap a ton of original check-in photographs. It is not difficult to find a great angle for a nice picture. If you finish this village without taking photos, then you haven't gone to this destination at all. Additionally, you also get to know the bustling lifestyle of the locals since they first arrived at the incense village: how villagers make incense sticks for a living, the process of production,...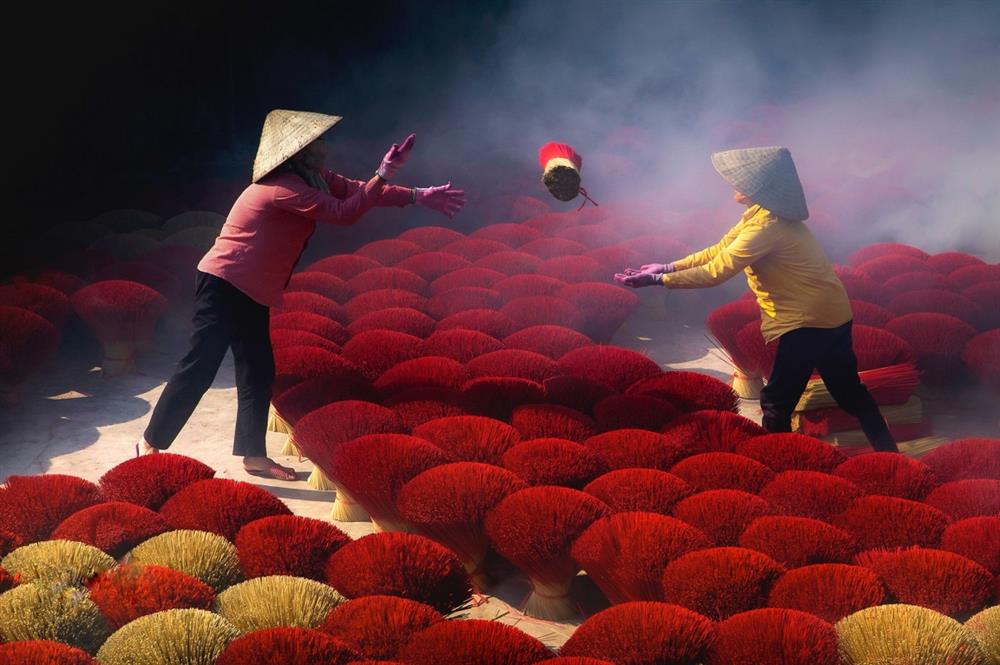 Many cars, both big and small, will be coming in and out of the village as you travel the roads, bringing incense to sell. Large courtyards may be seen anywhere, and in the blazing yellow sunlight, they are adorned with bouquets of colorful incense that are huge in size, with the heads grouped together and the legs spread out like blooming flowers. People utilize the vacant lots, shared dwellings, and courtyards to dry incense, which makes for a really stunning scene.
The incense in this Hanoi incense village is particularly lovely and exceptional because it is red and yellow, the auspicious colors of the East. No surprise to see that both local and international photographers have used this town as a location for photo shoots for many years because it naturally has already a perfect background. Numerous artistic works about this town have received prestigious awards.
The town produces several traditional crafts, including pottery and basket weaving, but it is most known for its incense, which is utilized in numerous Vietnamese religious rituals and festivities. Herbs, wood, and resins are among the natural materials used to make this incense.
Following the formation of the incense, it is allowed to cure for a few days, creating highly picturesque vistas of vividly colored bouquets of sticks that are arranged on the village's streets and squares. The incense is ready for use once it has dried and has been wrapped in paper or put in a holder.
The best place to make photographs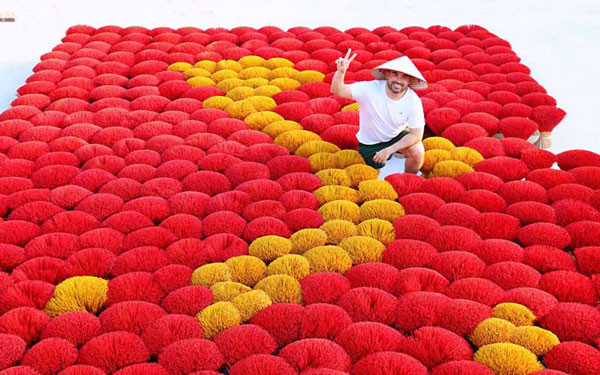 Arranging bunches of incense sticks into different shapes for tourists to take pictures.
The finest vantage point from which to capture the incense show is from the top down the ground. You do not need to acquire a drone in this situation. For a little cost, the locals in one particular plaza offer platforms to anybody looking for this really rare shot. Look for this location when you get there: Làng làm hương đỏ.
2. The best time to visit Quang Phu Cau village
Go early if you want to capture amazing images and see the incense production process. Aim to arrive in the village around 10 am since that is when the residents spread the incense out to dry in different configurations. Around noon, when the employees take a lunch break, this procedure will be finished.
Around "Tet" (also known as Lunar New Year), when incense manufacturing is enhanced and millions of fragrant incense sticks are being dried on the streets, Quang Phu Cau is at its most breathtaking scene for tourists to come by and take absolutely stunning photos.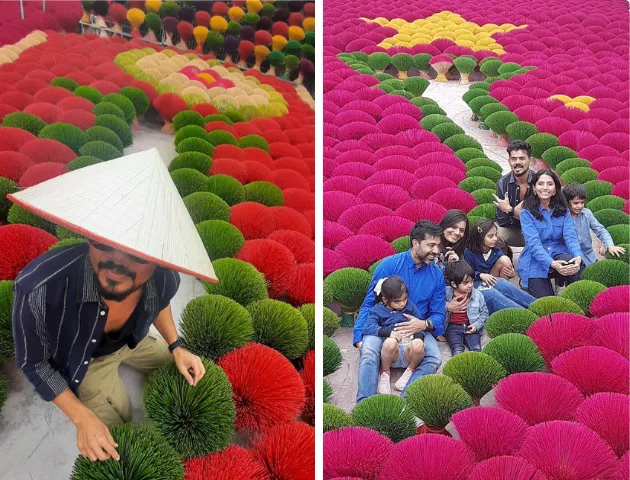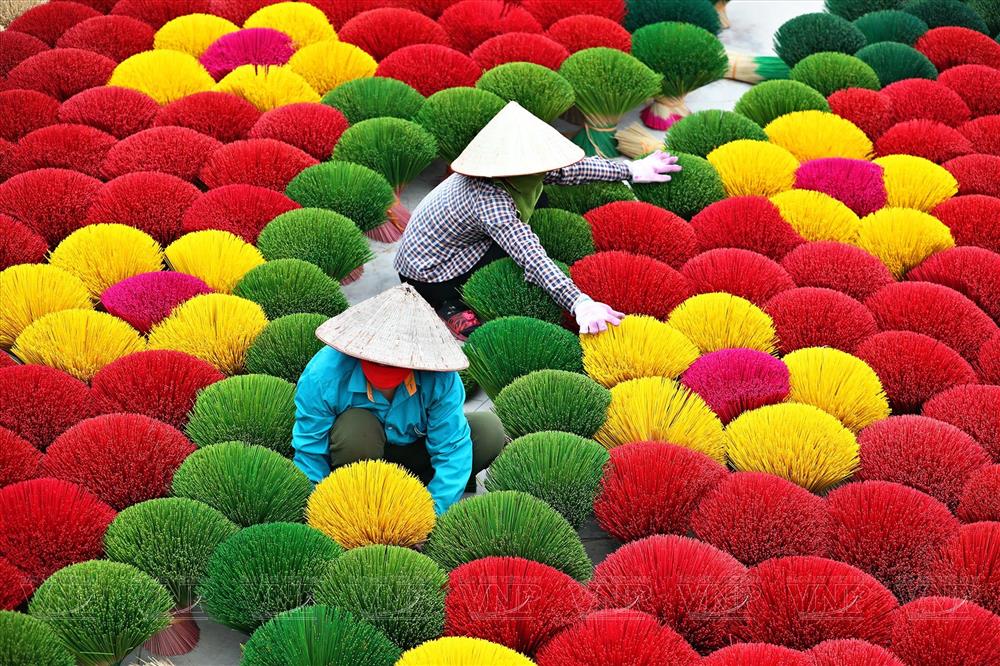 Drying incense sticks in Quang Phu Cau village.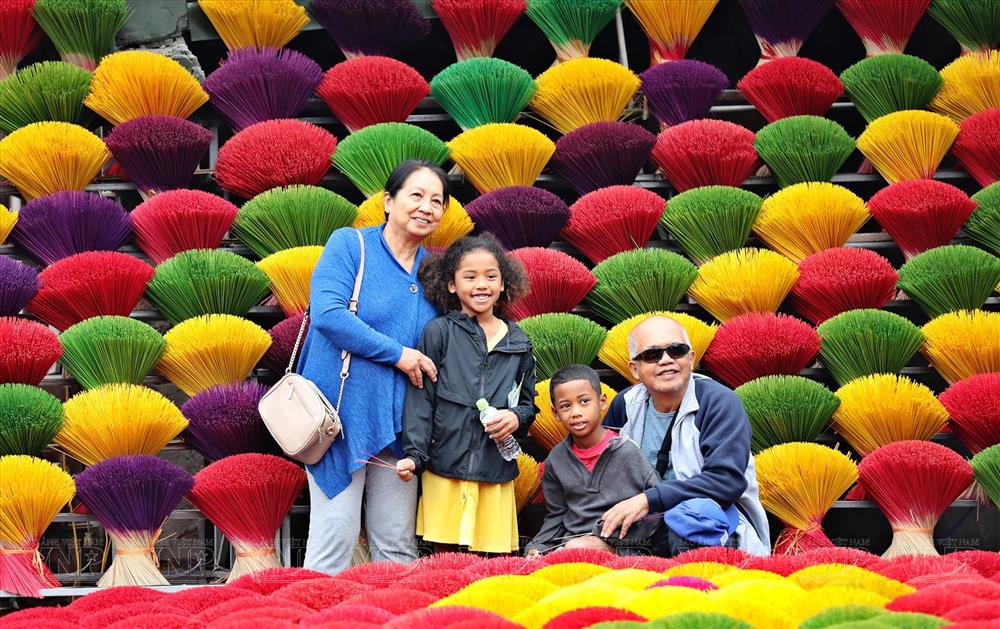 Visitors pose for photos at Quang Phu Cau village
3. How to get to Quang Phu Cau village from Hanoi?
The village of Quang Phu Cau is situated in the neighborhood of Hanoi. Depending on your preferences and financial situation, there are several routes to get from Hanoi to the countryside.
-   If you go by bus: from Hanoi, riding bus line 91 to Quang Phu Cau incense village is the most practical and economical option. Depending on where you embark, the bus journey might last anywhere between 45 and an hour.
-   If you go by taxi: Taking a cab from Hanoi to Quang Phu Cau village is an additional alternative. Although it costs more, this choice provides more comfort and versatility. The driver might agree to wait for you in the community or to return to pick you up after your excursion. 
This option seems to be more efficient for travelers because you don't need to wait long, card payment accepted and no stop. Remember to have a nice translation software on your phone because not all cab drivers can speak English very well. Another option is take a guided Quang Phu Cau incense village tour.
-   If you go by motorcycle: This choice is fun for those who like a little bit of adventure. You can easily rent a motorcycle in Hanoi and go independently to Quang Phu Cau village by google map. Due to Hanoi's crazy traffic, this choice provides you more freedom and flexibility to explore the region at your own leisure, but it also carries certain hazards. Just be careful with everything on the road and ride with proper speed.
The girl enjoys beautiful moments in Quang Phu Cau Village.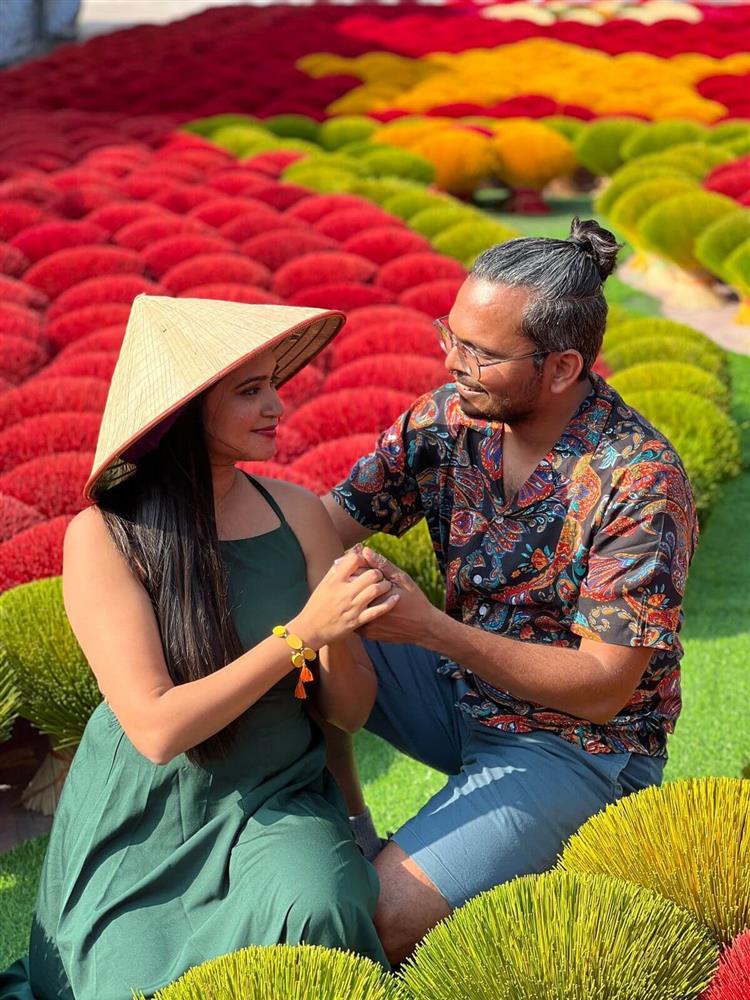 The village has become a favourite destination for both domestic and foreign visitors