Pho Cao Commune, about 110 kilometers from Ha Giang City, in Dong Van District, Ha Giang Province, offers visitors a mesmerizing blend of majestic natural landscapes, unique ethnic minority cultures, and untouched rustic beauty that few places can rival.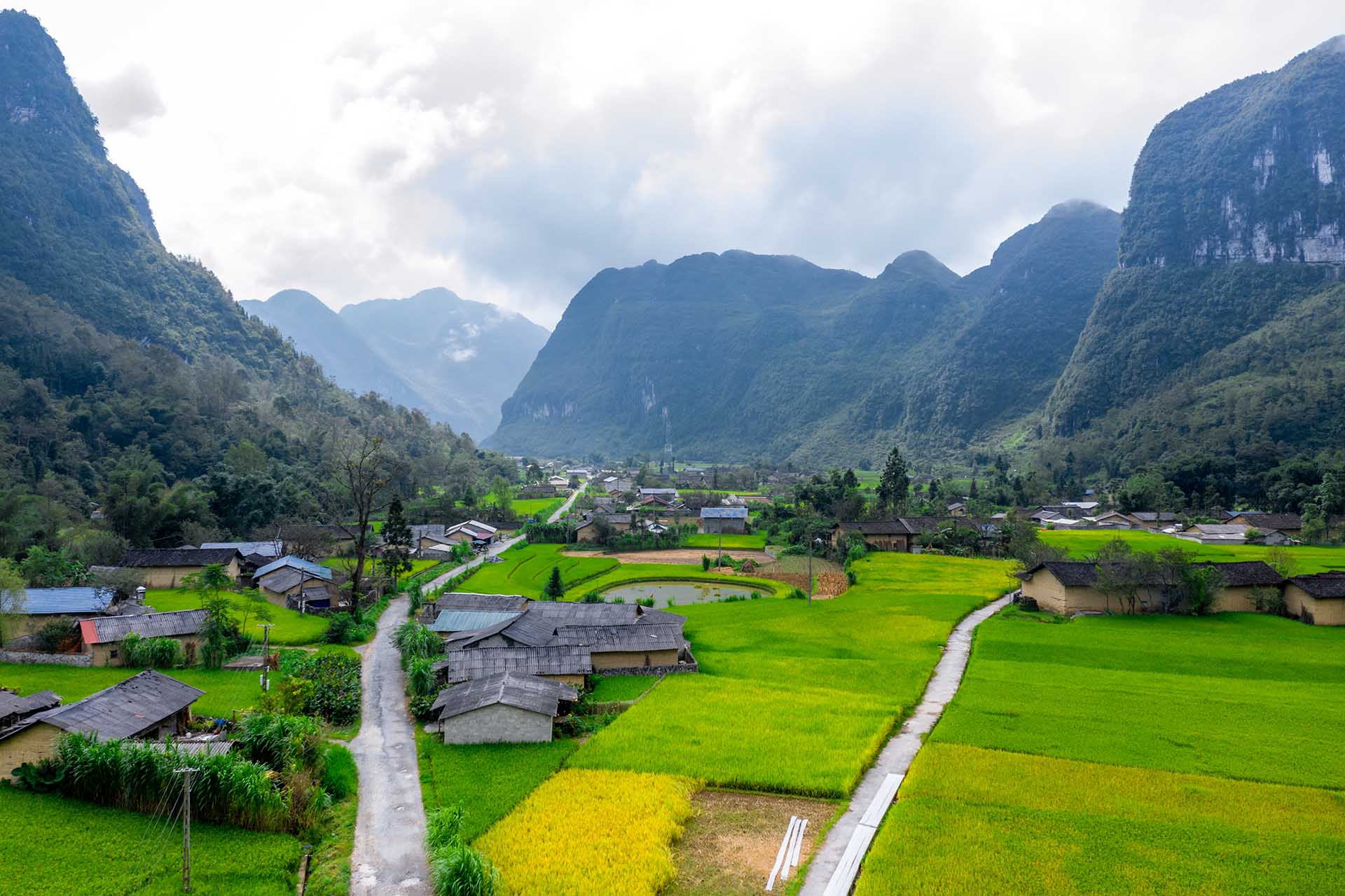 To reach Pho Cao Commune from Hanoi, travelers can embark on a journey by coach or sleeper bus to Ha Giang, and from there, continue their adventure along National Highway 4C, with transportation options ranging from coaches and cars to motorbikes.
Encompassing an area of about 38.18 square kilometers, Pho Cao Commune is divided into 18 villages and is home to around 7,000 people from diverse ethnic backgrounds, including Mong, Pu Peo, Tay, Nung, and Giay, with Mong people comprising over 90% of the population.
The architecture of the trinh tuong house, unique to the Mong people and a typical feature of Pho Cao Commune
One of the distinctive architectural features of Pho Cao Commune is the "trinh tuong" house, a unique design characteristic of the Mong people. These houses are constructed entirely from local soil and rocks to withstand the harsh mountain weather. Thatched or tiled roofs provide warmth in winter and a cool respite in summer. Skillfully crafted by locals, these trinh tuong houses have stood the test of time for over a century and have served as the backdrop for numerous highland-themed films.
Pho Cao Commune boasts its own charm in every season, each with its distinct cultural identities. September to October is the time for ripe rice fields, while the buckwheat flower season paints the landscape from October to March. Late February to early March sees the peach blossoms in full bloom. Additionally, every household in the commune cultivates peach and pear trees, along with staple crops like corn, wheat, and buckwheat, as well as flax (Linum usitatissimum) for weaving.
Tourists visiting Pho Cao Commune can explore Tham Ma and Chin Khoanh slopes, revel in the beauty of buckwheat flower fields, and wander through ancient villages set against the backdrop of breathtaking natural scenery. The local cuisine, steeped in highland flavors, offers specialties like "men men" (steamed cornmeal), corn wine, Vietnamese black chicken, dried buffalo (pork) meat, and buckwheat cakes.
As of now, Pho Cao Commune does not have accommodations for overnight stays. First-time visitors interested in immersing themselves in the local culture can book tours through travel agencies to ensure a fulfilling experience.
By Giang A Phon
The Saigon Times  – english.thesaigontimes.vn