* Detailed Program:
05:50 am - Local English speaking tour guide pick guests up at Ninh Kieu Quay, then get on boat to visit Cai Rang Floating Market
06h10am - Arrive Cai Rang floating market. 
The cai Rang is one of the biggest floating market beginning from sunrise to late morning but it is busiest from 8 to 10 am every day.
The shops and stalls at the market are local boats of different sizes. The main items sold are farm products and specialties of Cai Rang Town and neighboring areas.
Wholesale is the main form of trading in this market. What you need to do here is to sit back on your boat, enjoy the morning coffee served by the local coffee boat and watch the whole world of trading going on from boats to boats.
As you boat edges through the market, you will be surely driven back to the yester - centuries by the sound of bargaining, rowing, motoring mixed with the sound made drom the coffee boats, meat boats, grocery boats, ice boats,...your breafast today as local style with a bowl of noodle soup.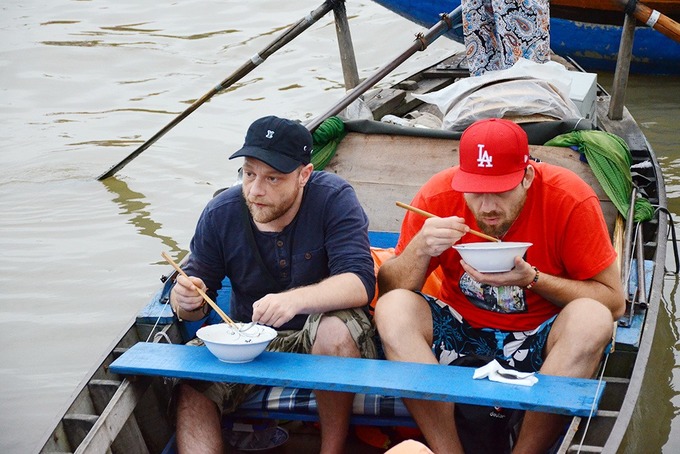 Your breafast on the boat
07:40 am - Move to Sau Hoai's Rice Noodle Production Facility (Hủ Tiếu Sáu Hoài)  where is one of the most popular attractions in Cantho. Localed near Cai Rang Floating Market, the factory still maintains the traditional way of marking Hủ Tiếu, or traditional rice noodle of the South Vietnam. Here you will see the process of producing delicious rice noodles and be free to enjoy Rice Noodle Pizza.
08:40 am - Leave Sau Hoai's Rice Noodle Production Facility, guests will visit Ba Hiep's Orchard. Guests will go around the garden, enjoy the fresh air in the countryside and the green orchard as mango, jackfruit, dragon fruit, water coconut on the farm of the local farmer and drink a just mine tea.
You can take a rest and have lunch here (self-sufficient). 
10:00 am - Come back the boat to get back the Ninh Kieu Quay
10:20 am - Arrive Ninh Kieu Quay, finish the tour.
Thank you, goodbye and see you in the nearest occasion!
* INCLUDES: 
- Transport: boat
- Fruits in the floating market.
- Rice Noodle Pizza
- Tickets as described in the program
- Insurance: The highestcompensation is 20.000.000 VNĐ/ person/service
- Tour guide:English speaking, cheerful, enthusiastic, thoughtful
- Gifts: 01 hat, 01 cold towel, 01 bottle of water (0,5l/ person/day)
FOR MORE DETAILS
AN NAM INTERNATIONAL JSC
10 NGÔ GIA TỰ ST, AN HỘI WARD, NINH KIEU, CAN THO CITY
HOMEPHONE: 02926.53.2222/ Phone 0939900668
Travel is the only thing you buy that make you richer!