THE HIDDEN GEMS
1. Diep Son - Khanh Hoa
Fascinated with Maldives? Vietnam has its own walking path between two beaches at Diep Son island, Khanh Hoa province. It sounds unbelievable but once you visit Diep Son Island in Van Phong Bay, Khanh Hoa, and walk yourself on the seemingly fragile, winding and pure white sandy path submerged by two crystal clear beaches on each side, your breath will be taken away.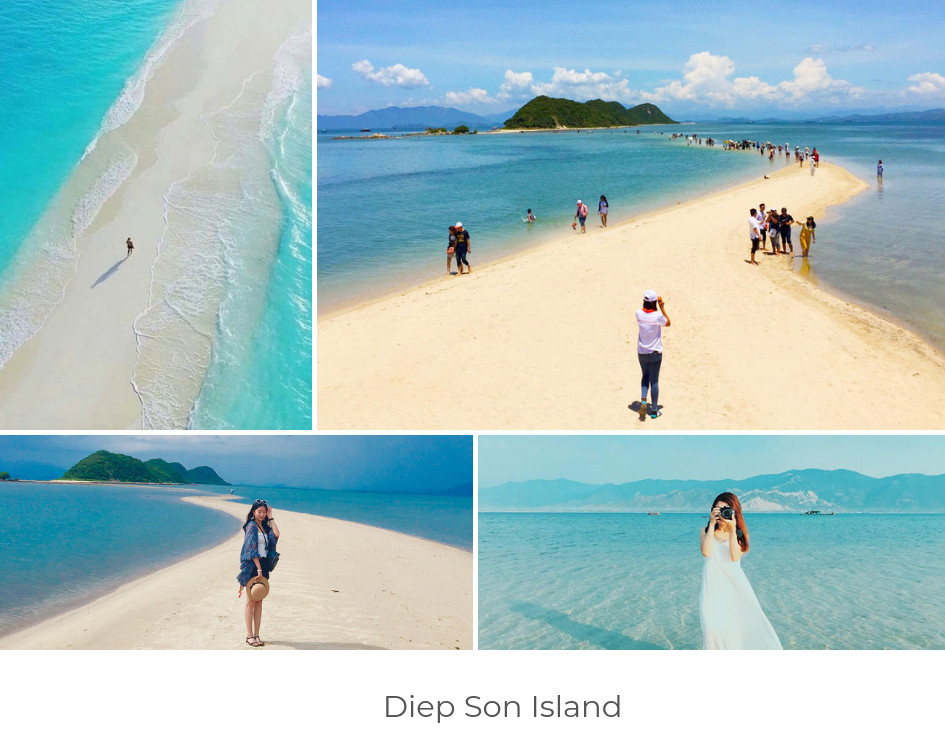 The path which is actually a sandbar is only 1 kilometer long, 500m wide and ankle deep. Depending on what time you visit, the path can be entirely submerged or partly visible. Visiting Diep Son, it's a pity to miss visiting the people living on the island, enjoy seafood and discover the pristine and beautiful nature here.
The only way to reach Diep Son is a boat trip to Van Gian Wharf which departs when the seats are filled. The trip take you only 20 minutes to reach Diep Son. Best time to visit Diep Son is from December to June which is the dry season.
2. Binh Tien Beach - Ninh Thuan
Ninh Thuan is located at the Southern Central Coast of Vietnam, blessed with a hot, windy and sunny weather all year round. Nature also has given Ninh Thuan beaches and bays with otherworldly beauties. Binh Tien might not be as famous as Vinh Hy Bay or as dramatic as Hang Rai, but Binh Tien cave is no less beautiful as any other beach in Vietnam.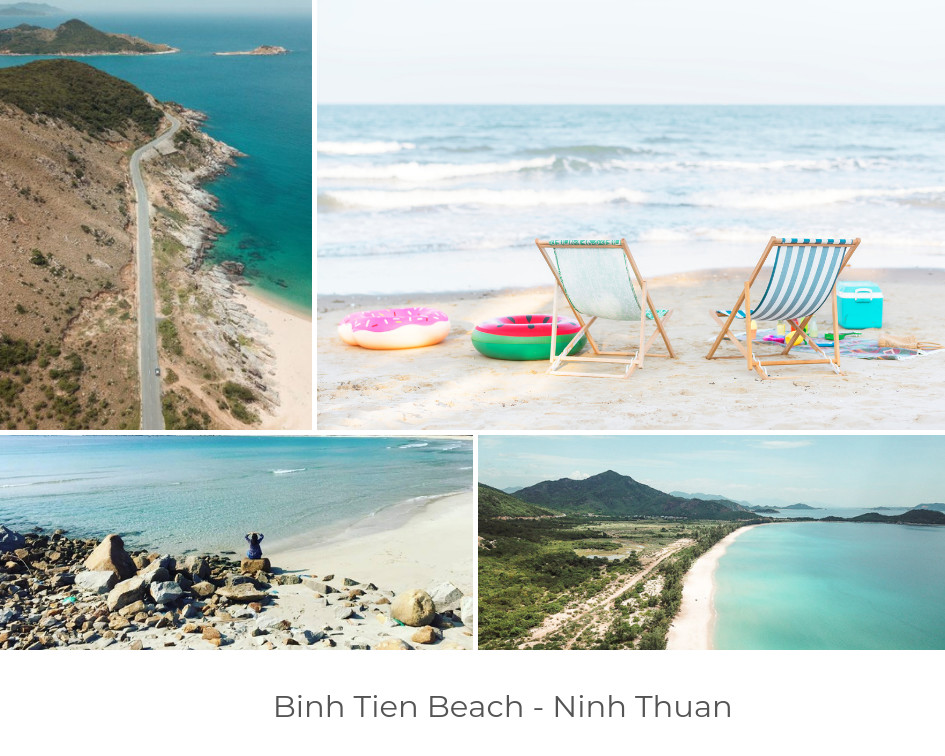 First thing to talk about Binh Tien is its pristine beauty which is still untouched by mass tourism. Binh Tien beach is a perfect for those who love to have a whole empty beach to themselves. The next beautiful thing about Binh Tien is the Binh Tien pass. From the magnificent Vinh Hy Bay, following the road, you will get to the pass of Binh Tien which runs in parallel with the white sandy coastline. From the pass, you can see the beach pretty clearly and when you finally reach it, you'll like the paradise slowly unfolding before of your eyes.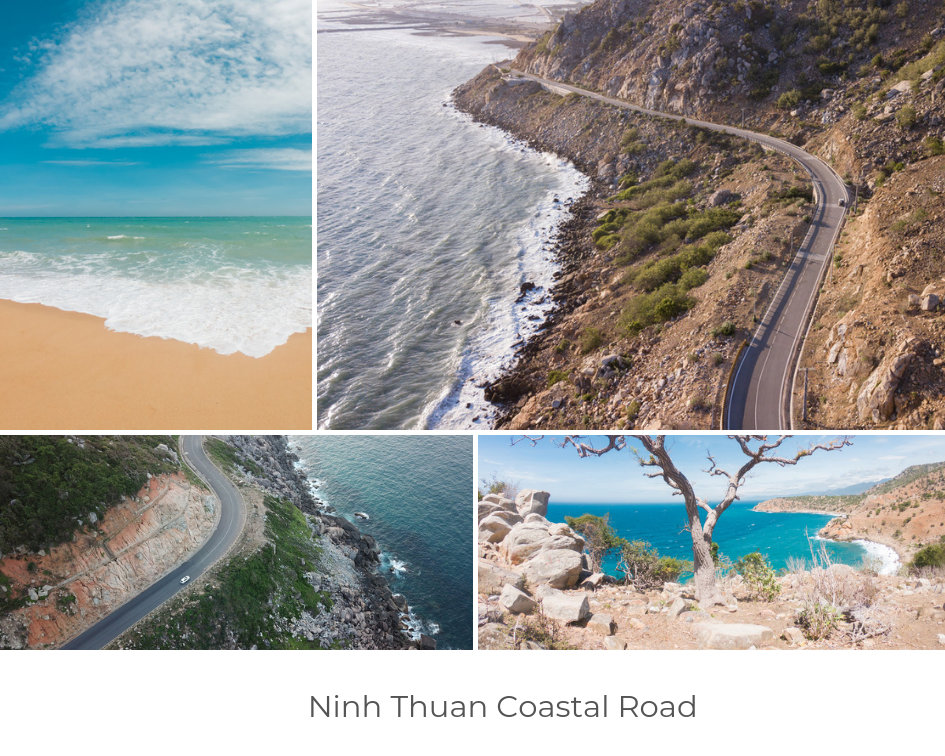 Binh Tien beach is also the perfect beach for swimming for its gentle waves, shielded by the mountain cliffs. Snorkeling service is available when you book tour to Binh Tien.
3. Bai Mon - Phu Yen
Phu Yen has never been considered as a major tourist destination in Vietnam and only until the famous film 'Yellow Flowers on Green Grass' hits the big screen, people realize how beautiful Phu Yen really is.
Phu Yen doesn't have a dramatic landscape or cultural heritage but its beauty offers a nostalgic return to a Vietnam that now only exists in the memories of old people. The trip to Phu Yen and its beautiful beach is a trip to escape the urban environment.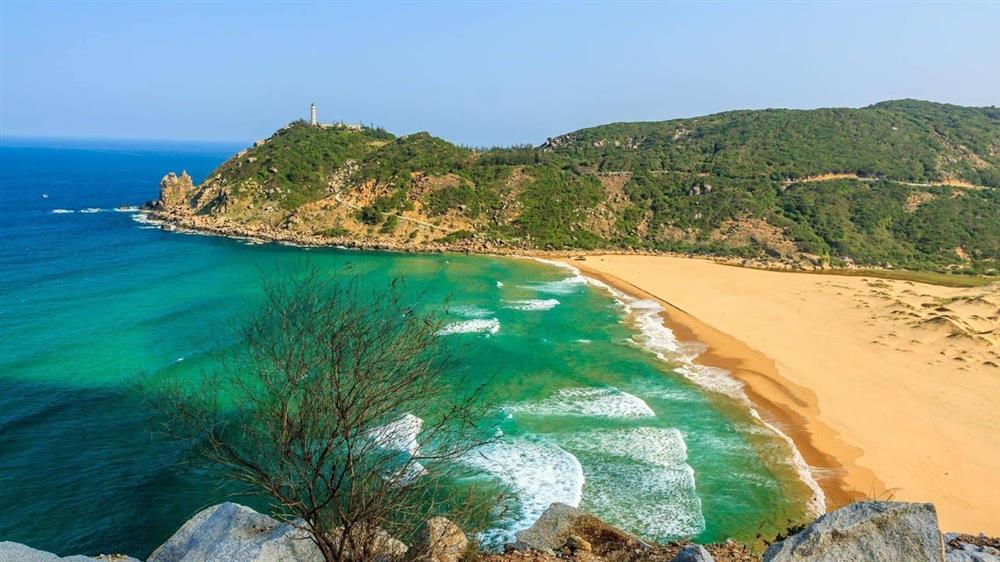 Bai Mon didn't appear in the film but it's the must-see place in Phu Yen. Bound by Dien Cape, the beach of Bai Mon is incredibly blue and calm while the sands are light yellow and soft.
Dien Cape is the easternmost point of Vietnam which means this is the place that has the earliest sunrise in the country. If you have the chance to camp on the beach of Bai Mon, remember to wake up early to enjoy the most magical moment of the day.
On the Dien Cape is the 26,5m high lighthouse above the sea level and a sea watch tower where you can take in the panoramic scene of the mountain and ocean.
There is a small freshwater stream running down from the mountain to the beach, making a great place to wash after swimming in the ocean.
4. Bai Xep - Phu Yen
This beach was featured in the famous film we just mentioned above, and in no time, from a totally unknown beach, it becomes the hottest tourist destination in Phu Yen.
Xep beach is located far at the north, about 17 kilometers away from Tuy Hoa City, absolutely untouched by mass tourism. Its appearance on 'Yellow Flowers on Green Grass' made us admire a rustic, gentle and calm nature beauty.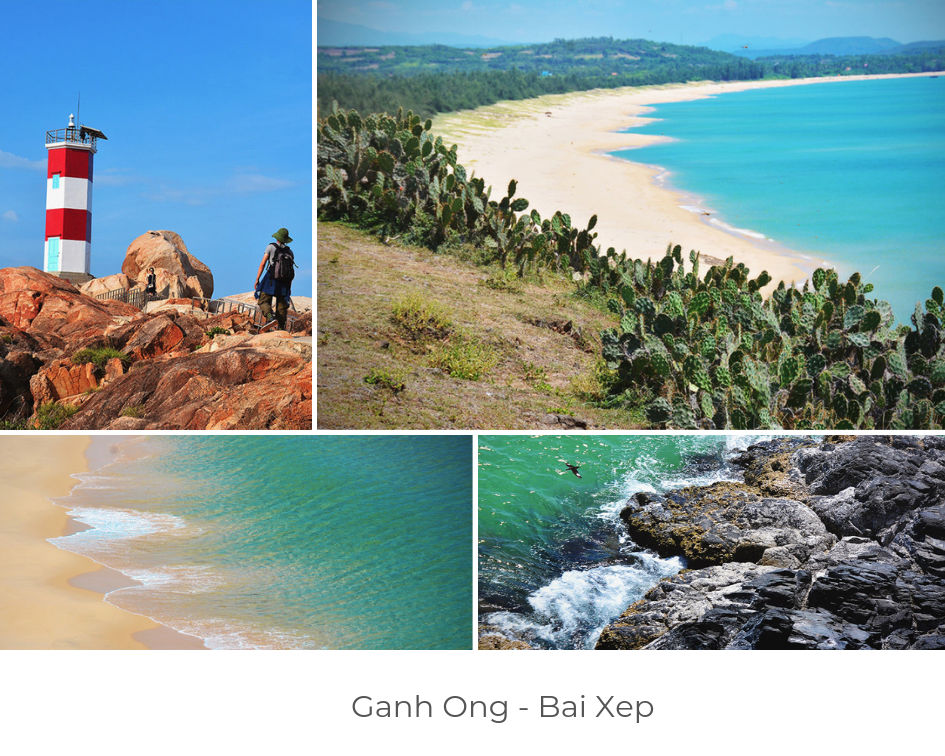 Xep beach is only 500m long, bound by a long rocky cliff covered in green grass and cactus protruding into the sea.
You can also reach Ganh Ong beach from Xep Beach by walking along the coast. Enjoy the cactus, thick casuarina forest and bizarre rock formations of this wonderful beach.
5. Ky Co Beach - Eo Gio (Binh Dinh Province)
Ky Co Beach is a well-known sightseeing in Qui Nhon, Binh Dinh but in general still pretty much a stranger to foreign travelers in Vietnam.
From Qui Nhon, you can reach Ky Co by crossing Thi Nai bridge, further go into the eastern land of the city, you will arrive at a beach paradise with emerald bay, gentle waves and impressive rock setting.
Since Ky Co is still not invaded by crowds of tourists, you'll have an amazing relaxing time on one of the most beautiful beaches in Vietnam. Just dive into the crystal clear water or find your way to the clean, hidden ponds formed by the mountain rocks on the right side of the beach, it's the best experience ever to have in Quy Nhon. You can see in these ponds little fishes and shrimps who couldn't escape when the water rises.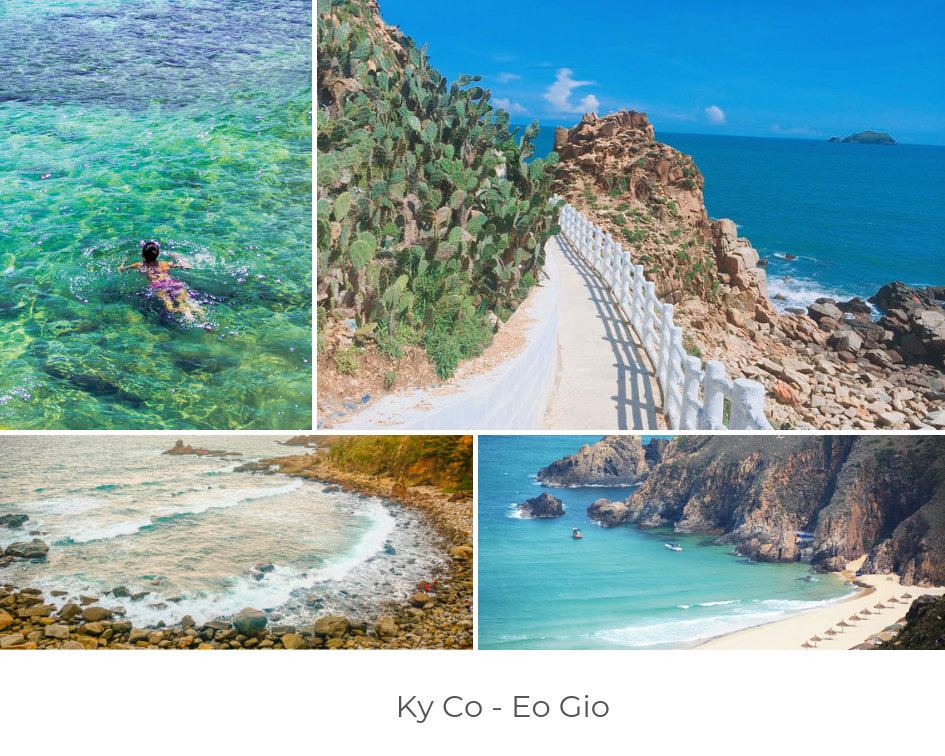 Only 6 kilometers away from Ky Co beach, Eo Gio is another totally different paradise. Eo Gio means 'The Cape of Winds' so expect fresh, cool air here.
But winds are not the only specialty of Eo Gio, but also most beautiful mountain-coastal paths, crisscrossing on the hillside which we would like to call 'Paths of the Winds'. A paved coastal path that passes a small blue bay, adorned with an all-white wooden fence. Eo Gio is a fantastic place for a picnic and sunset watching.  
Source: Internet