Together with Cai Be and Phung Hiep, Cai Rang Floating Market in Can Tho City is one of the three biggest in the Mekong Delta. The shops and stalls at the market are boats of different sizes.
One of the most interesting sights in the Delta are the floating markets and associated river life. Cai Rang Floating Market is open all day but it is busiest from sunrise to about 9am. The main items sold there are farm products and specialties of Cai Rang Town, Chau Thanh District and neighboring areas. Every boat has a long upright pole at its bow on which samples of the goods for sale are hung.
During the early morning market hours, larger sized boats anchor and create lanes that smaller boats weave in and out of. The waterway becomes a maze of hundreds of boats packed with mango, bananas, papaya, pineapple, and even smuggled goods like cigarettes. Sellers do not have to cry out about their goods because their goods can be seen in a distance and their cries would not be heard in the vastness of the river and the noise of boat engines. Small boats that sell beer, wine and soft drinks go among the other boats to serve market-goers and visitors. Sellers tie their goods to a
Transporting fruit on a small boattall pole so that buyers can see from a distance what they are selling.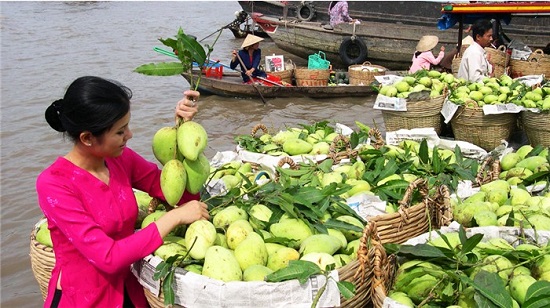 Each boat is loaded with plenty of seasonal goods. Activities at the market are also an occasion for tourists to study the cultural aspects of southerners. You can see the market in the distance, it does not look like much, just a mass of boats. The boats all display their wares on a mast so you can see what they have available.
To visit Cai Rang Floating Market, visitors can join a tour of the Mekong Delta. On the way to Can Tho, visitors can stop to visit My Tho and take a boat trip to visit orchards, bee farms and coconut candy establishments in Ben Tre.
Have you been to the Cai Rang Floating Market? If not yet, let's take a 30 minute boat ride to the market. You will be actually awake and enjoying it! You wind find it very peaceful floating down the river in the early morning. Then, tell us why you think this market is a great place!
ITINERARY I:   BOAT STATION – CAI RANG FLOATING MARKET  (02 – 03 hours)
Quantity                            US DOLLAR/BOAT
1-2PAX                             16$/BOAT/GROUP
3-6PAX                             17$/BOAT/GROUP
7-10PAX                           20$/BOAT/GROUP
OVER 10PAX                    2.5$/PAX
OVER 21PAX                    2$/PAX
Price includes:
 ITINERARY II:   BOAT STATION – CAI RANG FLOATING MARKET- RICE PAPER FACTORY- FRUIT GARDEN  (4-6 hours)
Time: 7AM daily at Boat Station 1
Price: 4$/pax (add with another traveller)
Price includes:
        Big boat, tickets, tropical fruits, insurance
ITINERARY II:   BOAT STATION – CAI RANG FLOATING MARKET- RICE PAPER FACTORY- FRUIT GARDEN- 
Quantity                            US DOLLAR/BOAT
1-2PAX                             35$/BOAT/GROUP
3-6PAX                             41$/BOAT/GROUP
7-10PAX                           47$/BOAT/GROUP
OVER 10PAX                    6$/PAX
OVER 21PAX                    5$/PAX
Price includes:
 Big boat, tickets, tropical fruits +tea, entrance fees, insurance, guider (Good Enghlish or French tourguide)